Published on Jan 9, 2023
Aware of social role in society
Amacom, always looking for sustainable solutions!
An increasing number of organisations are aware of the importance of sustainable initiatives for the future of our planet. It is about taking responsibility for the impact that business activities have on the environment, society and the economy. Companies that operate sustainably ensure that their activities do not unnecessarily damage the environment and contribute to the conservation of natural resources. Amacom is aware of its role in society and has therefore, over the years, become increasingly committed in its search for sustainable solutions. Amacom is happy to share transparently which initiatives are taken in the field of sustainable entrepreneurship.
Waste separation
One of the sustainable solutions in terms of reducing plastic at Amacom is waste separation. In the warehouses, all plastic materials, such as packaging material and film, are stored separately. All plastic waste that is separated is then collected for recycling. The plastic straps that often surround pallets are also separated (separately from the plastic), as these straps are more difficult to recycle. In addition, paper and cardboard are also separated separately.
Pallet shipments and delivery planning
Amacom is always looking for new technologies and materials to further improve sustainability. This also applies to pallet shipments. Amacom uses wrapping machines that automatically wrap pallets with plastic. These machines have to be replaced every few years. Amacom is therefore always looking for new machines with improved technology. Just like the machines, the film is constantly being improved. Amacom currently uses pre-stretched foil. This foil is just as strong as the thicker foil, but ensures that the use of plastic for packing pallets is increasingly reduced.
Furthermore, within its logistics operation, Amacom ensures that deliveries to partners are scheduled as efficiently as possible. This includes loading pallets as full as possible within the established guidelines. This avoids unnecessary extra kilometres to our partners.
Packages
In addition to pallet shipments, Amacom ships many products in outer boxes. Amacom has chosen to use a total of six different box sizes so that there is a suitable box for every product without having to use unnecessary filling material. In addition, the six different sizes of outer boxes are collo-modular, which allows an optimal fit on pallets and again ensures efficiency and durability.
Amacom works with six different festive outer boxes.
Sizing
Amacom owns a sizing machine; a device that measures and weighs every product. This information is used on the one hand to determine the location for the product in the warehouse, but is also used to determine what type of outer box a product should be packed in. The system calculates in which box products can best be packed. This information is shared on the order, after which the employee who is going to pack the products knows exactly which box to use. Because the system calculates which box to use, the box is used as effectively as possible, reducing the use of packaging material to a minimum.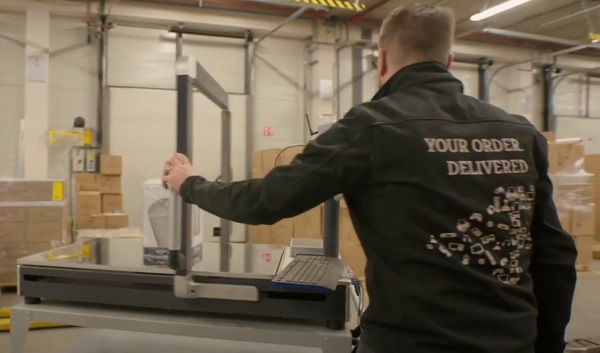 Sizing machine that correctly scales every product in the Amacom assortment.
Packaging materials
When there is space left in a box, it is filled with plastic packaging material to protect the box from knocks and dents. Amacom uses machines that fill plastic air pockets with air. Plastic has been chosen as filling material, because the eco-indicator score (the degree of environmental impact) for plastic is much lower than for paper. The machine only fills the air pockets with air when the actual filling material is needed. The air pockets are supplied without air in them, which ensures that they are considerably smaller than pre-filled bubble materials. This is not only beneficial for the storage of the material, but also for the transport of the material, which makes this application more durable than pre-filled bubble materials. In addition, the pockets can contain a lot of air, which reduces the amount of plastic in a box as much as possible. The plastic air pockets are made of recycled plastic and can be recycled endlessly. Amacom is constantly looking for the most environmentally friendly material for the packaging material as well.
Amacom tries to reduce the use of packaging material as much as possible, on the one hand by choosing the right box sizes, but on the other hand also by using the packaging material of the supplier as much as possible. When a product is already packed in a large box with filling material, Amacom does not use an extra box and therefore no extra filling material.
The bottom line is; Amacom does everything in its power to work as sustainably as possible within its logistics services, also concerning plastic.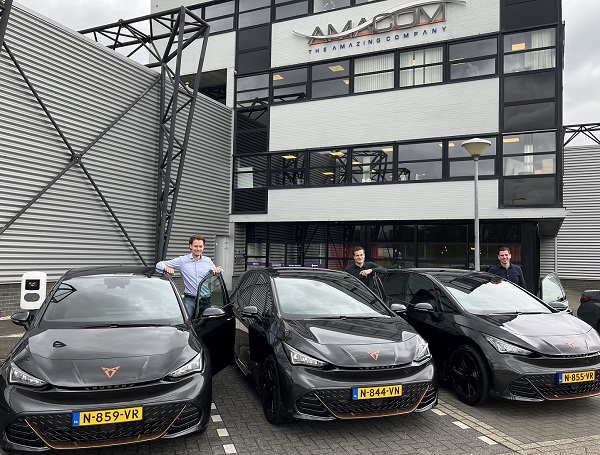 Further electric sustainability of Amacom fleet
We deliver electronics with a plug
Amacom has recently invested heavily in making its vehicle fleet even more sustainable. For example, several charging stations have been installed on the forecourt. Furthermore, a growing number of electric cars have been purchased for employees and an electric bus (eCrafter) for package delivery. As of today, this electric commercial vehicle enables us to deliver consumer electronics to our customers in the region in a sustainable manner. The e-Crafter emits no CO2 and nitrogen and is therefore an extremely economical and ecological way to reach our customers.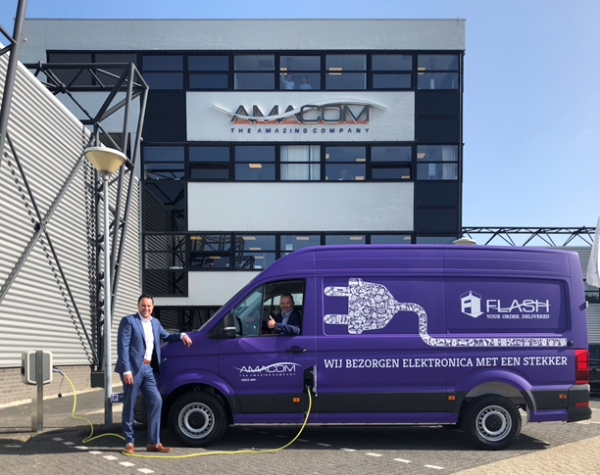 Sustainable fleet expansion Amacom
Other initiatives
Also in the premises and warehouses, there are numerous sustainable initiatives that Amacom undertakes on a daily basis. From automatic LED lighting running on motion sensors to avoiding disposable materials in employees' daily use.
At the bottom line, Amacom makes every effort to operate as sustainably as possible within its logistics services, in order to minimise its ecological footprint.