Published on Jun 1, 2022
Amacom, The Amazing Company B.V. further expands purple delivery service
Dutch distribution and fulfilment partner focuses on even higher service level with own transport service
's-Hertogenbosch, 1 June 2022
Amacom, The Amazing Company B.V. is in full swing as an all-round distribution and fulfilment partner and has recently further expanded its purple delivery service with several new Crafters, Sprinters and Atego's.
Amacom offers its partners an extensive range of services and a total solution for their logistical challenges. With over 15,000 m2 of warehouse space spread over four strategic locations, it has the right logistics capacity to be able to offer its customers the desired speed and availability of A-brand products. Whether it is deliveries to retailers, e-tailers, central warehouses or directly to the consumer via drop shipments, Amacom goes for the complete worry-free approach for its partners.
In a landscape where there are plenty of logistical challenges in terms of the delivery of goods from manufacturers and scarcity in the availability of external transport capacity, Amacom is aware that its own purple delivery service has an even more emphatic role to play in the future. For this reason, Amacom decided last year to actively respond to the emerging market situation by making a further investment in its purple fleet.
Amacom is proud to announce that it has expanded its fleet by 20% and will be welcoming several new Crafters, Sprinters and Ategoes in the coming period. The new additions are currently on their way, undergoing inspection and being lettered 'as we speak' in the unique and recognisable purple design. From mid-June Amacom's purple delivery service will be at full strength to provide customers with the familiar touch of purple magic.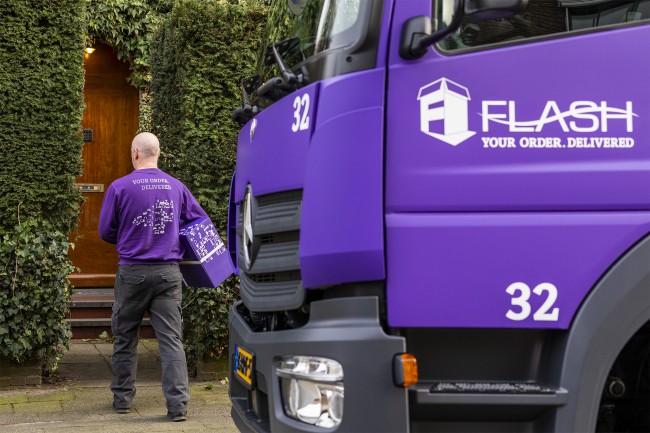 Increased service level via purple delivery service
Managing Director Dick Engels is pleased with the expansion of the fleet: "In order to be able to continue to respond appropriately to the logistical wishes of our customers, we have deliberately chosen to place even more emphasis on the strength of our purple delivery service. With our own fleet we guarantee a higher degree of reliability, less transport damage and defects and above all the desired speed of delivery. In addition, with our own drivers we can offer a higher service level and ensure personal contact and a familiar point of contact for our customers. With our new acquisitions we will therefore do everything we can to serve our partners even better in the near future!"
Will you be joining the team at Amacom?
Because of the strong growth of the company and the further expansion of its own fleet, Amacom is constantly looking for new truck drivers (driving license C with code 95) and delivery personnel (driving license B). Are you or do you know someone who is looking for a new challenge? Then take a look at all the vacancies at www.werkenbijamacom.nl.
Take a picture of our new fleet and win!
Will you see our new purple fleet driving around the Benelux from mid-June? Then don't forget to take a picture, post it on your social media channels and tag us! Among all entries we will raffle off three nice prizes that we will deliver with our purple delivery service!
Discover the many advantages
Would you like to team-up with Amacom?
Expertise in the field of planning, logistics and distribution
24/7 access to Quecom
Wide assortment, shaped by many (A-) brands
Strong partner in automation (e.g. API and EDI connections, market places, brand shops and loyalty)
Customer service available six days a week
Own purple delivery service with dedicated drivers
And many more reasons…