Published on Nov 30, 2022
Dick Engels announces leaving Amacom
Co-founder Dick Engels is leaving Amacom after a period of more than 23 years. An Amacommer for life who stood at the cradle of our beautiful company. As captain of the ship he has enabled Amacom, The Amazing Company and his team and the various subsidiaries to grow into one of the largest suppliers of consumer electronics and small domestic appliances in the Benelux. And we are extremely grateful to him for that. See below the letter Dick has written in which he explains his departure and his new challenges.
Just one last month at Amacom…
It all started in 1999 at our home at the kitchen table with a great dream; trading in consumer electronics. Since the beautiful first premises in Schijndel (2002) we have gone through many beautiful relocations, parallel to the growth of our company. For many years now we have been located in 's-Hertogenbosch and Rosmalen and serve our customers daily from four warehouses. We do this not only operating from the name Amacom, but also through the self-built, successful companies Megami, Gezamenlijk Voordeel and Quecom. And since the beginning of this year we have also welcomed Exertis Pro AV to the family.
Time has flown by and Amacom, The Amazing Company B.V. has grown in all these years into one of the largest suppliers of consumer electronics and small household appliances in the Benelux. As a family we have made our hobby our profession and we are very grateful to everyone for the opportunities they have given us.
But 'all good things must come to an end'! After a period of over 23 years, with countless beautiful moments and memories, the time has come for me to take up a new challenge. And that means that at the end of this calendar year I will no longer be involved with Amacom on a daily basis. Of course I do this with some pain in my heart, because we as a family, especially my father, have invested a lot of time, energy and passion in Amacom and I am leaving a part of myself behind. But above all, I do it with a great sense of pride!
We have built a very solid foundation for a successful future in cooperation with DCC/Exertis. They showed faith in us in 2019 and after a successful acquisition, they helped prepare our company for the next phase. Not only have we established a powerful logistics infrastructure together with our own unique purple delivery service, we have also been at the forefront of automation in all these years and have developed a wide range of services, enabling us to offer our partners a one-stop solution. And last, but not least, I have a lot of faith in the team, which consists of many skilled, motivated colleagues who possess the real Amacom DNA!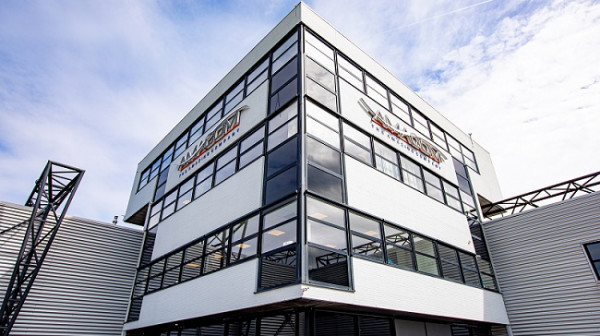 I will remain active as an entrepreneur, because that is where my passion lies. In the coming period I will focus, among other things, on my company Loft Haircare. I am very much looking forward to further market this fast growing company from our home base in Schijndel with our team. Furthermore, I continue to explore new projects to be built from the ground up, because making something out of nothing gives me great satisfaction.
I would like to close with a big thank you. Thank you for the many wonderful adventures we have had together and thank you also for the beautiful relationships and friendships that have developed both professionally and privately. Together we have been able to achieve great results in a landscape that is constantly changing. Amacom remains ambitious as a company and looks forward to the future together with you with great confidence!
We will definitely meet again. Keep chasing your dreams and as we in the family always say, "Dreams come true if you stay awake! See you soon!
An Amacommer for life.