Will you also become part of our Amazing team?
European Vendor/Account Manager online
Amacom is the largest distribution and fulfillment partner in the field of consumer electronics and small household items in the Benelux. The company's growth is accompanied by an increasing demand for Amacom's products and services in the field of e-commerce and marketplaces. Due to this strong growth, we are looking for an experienced European Vendor Manager for one of our focus clients. As a European Vendor Manager you know exactly how the market works and you are better equipped to connect people and companies and to take advantage of commercial opportunities.
Job description
With its potential, this customer will become an even more important customer in the coming years. Based on your knowledge and expertise, you are able to bind brands on a European level on their online platform with a strong range at the right conditions. You are commercially driven, have good communication skills and are aware of all developments in the field of e-commerce to determine the right performance strategies. Increasing sales and profitability within a strong relationship is your ultimate goal. To achieve this goal, you work closely with your colleagues from Amacom, The Amazing Company and parent company DCC/Exertis, establish and maintain contacts with relevant brands and ensure the right link and relationship with our customer.
Tasks and responsibilities?
You actively identify opportunities in starting up, managing and maintaining long-term supplier relationships on a European level for the benefit of the different segments within our customer;
You are an active interlocutor with expertise, both internally towards colleagues and externally (suppliers, parent company and DCC/Exertis);
You conduct all negotiations in the field of assortment composition, pricing, stock management, volumes, service and other relevant conditions;
You are responsible for establishing solid budgeting, KPIs and targets in the areas of revenue, costs and profitability and ensuring consistent adherence to these;
You are responsible for international supplier relationship management, monitoring performance and risks, including resulting follow-up action plans;
You are responsible for international relationship management in the field of brand and product offerings, supply chain management and all related activities;
You undertake and monitor marketing activities on the platforms of this e-tail partner and you provide support with technical and process-related issues.
We are looking for someone with:
This responsible, challenging, dynamic position requires the following skills and qualifications:

A proven track record in successfully establishing and managing large contracts, both substantively, contractually and financially;

Knowledge of purchasing, relationship management and (e-)commerce;

Excellent communication and negotiation skills in both Dutch and English;

You are result-oriented, commercially driven and always looking for opportunities to improve services, with the aim of further growth in turnover and profitability;

You are a real go-getter and have a hands-on mentality;

You are able to work in a dynamic, fast-growing environment;

You have strong analytical skills, set goals and have excellent planning and problem-solving skills;

You have excellent administrative and organizational skills

You pay attention to details;

You have experience in setting up brand strategies and conducting negotiations in the field of pricing, inventory and margin management;

You have knowledge in the field of marketing & promotion;

You have relevant experience with supply chain management and transport concepts such as planning, scheduling, logistics, delivery performance, carrier performance.

Minimum of several years of work experience in a similar position (e.g. Vendor Manager, Purchase Manager, Account Manager)
What we offer you:
A challenging position with an international character at the largest distribution and fulfillment partner in the field of consumer electronics and small household items in the Benelux;
You can make a difference by successfully realizing changes in the collaboration with a customer with great commercial potential;
You will receive an attractive salary and excellent fringe benefits.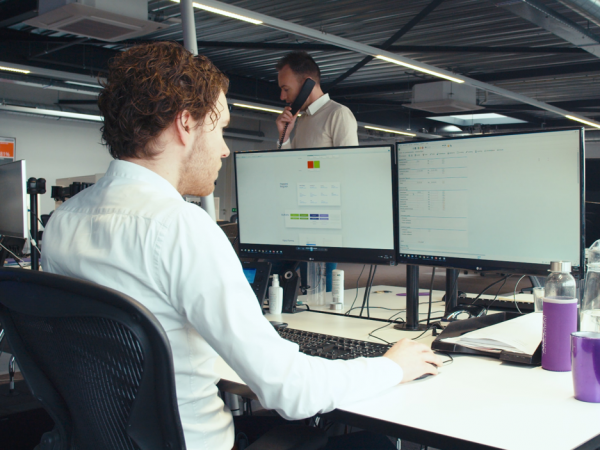 Our Amazing organisation:
Amacom, The Amazing Company handles the daily purchasing, sales and distribution of (mainly) consumer electronics for large and small e-tailers and retailers in the Benelux. A fulfilment partner for whom no question is too far-fetched and where people work that you can just call for personal contact. We are a growing organisation, but we are still the warm family oriented business as in our early years in 1999. That's because we work with the right people. A young, committed and enthusiastic team that does everything they can to get every package to the right place on time. With every order and every package we give a hint of our purple magic. Invisible and intangible, but what makes Amacom amazing.
Just as enthusiastic as we are?
Reply!
Send your motivation letter and CV to werkenbij@amazingcompany.eu. If you have any further questions about this position, you can always contact the HR department via: 073-5430775 or the e-mail address mentioned above.
Acquisition in response to this vacancy is not appreciated!
Facts & figures
The world of Amacom